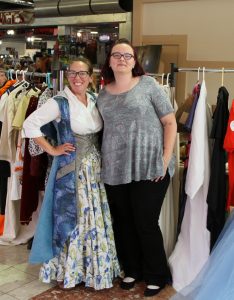 On a July afternoon, while driving home from a cosplay yard sale in Tennessee we had decided right then and there that we were going to launch our own cosplay yard sale in Atlanta right before Dragon Con.
The "we" in this story is Suzanne and Erin (Hi folks!). We aren't a company or industry people… we are just 2 individuals who started this with our own money and still do today. We have no sponsors, but would totally accept some if there's any suggestions!
The spirit of ACYS is for cosplayers to sell their new/used cosplay pieces to beginning cosplayers or advanced ones who just want to expand their closet.
Sure, you might see a few non-cosplay vendors who sell jewelry, art, or crafts… they're just as important because they're purchasing a table to enable ACYS to go further and have another event.
We're fans of cosplayers, we're fans of Atlanta conventions, we're fans of Atlanta crafters and artists, and we're fans of you… the people who come out to find a deal, have some fun with friends, and share a common thread.
We're hoping to grow Atlanta Cosplay Yard Sale into a supportive community that puts on more cosplay events. We hope you stick around with us and we can all grow together.
Thanks for being you.
Suzanne and Erin