Thank you so much to all of our vendors for being so wonderful despite less than considerable conditions. Thanks to the ones who did more than what they bargained for on Friday.. and who still thanked us for hosting an event.
Thank you to our consignors for taking a chance on us of doing it the first time. We think it was a win-win situation!
Thank you to our consignment table volunteers and our security volunteers! They always had a smile no matter the circumstances!
Thank you for the attendees for being considerate to one another and for bringing money and buying things. 🙂
Thank you to MomoCon for the snacks and food for vendors, thanks to Joystick Game Bar and Starbase Atlanta for sponsoring.
Thank you to our friendly committee Beans.. the black kitty cat outside the venue.
There were smiles, laughter, a lot of great deals, and we are so grateful for each and every single one of you that helped bring this together for 2018.
We will have another one soon!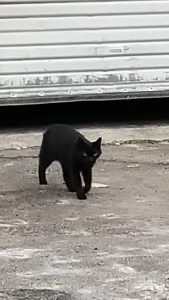 If you have any suggestions for future venues, we are more than willing to check them out.
❤️
Suzanne and Erin